Today's Hours




12 noon - 12 midnight

Research help desk

6 p.m. - 10 p.m.
The Latest
Fall in love with these books about Valentine's Day. Located on the lower level.
---
On June 16, 2022, Governor Kim Reynolds signed a bill into law designating February 1 of each year as George Washington Carver Day.
---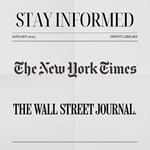 Northwestern students, faculty, and staff members - sign up to get free access to The New York Times and The Wall Street Journal
---