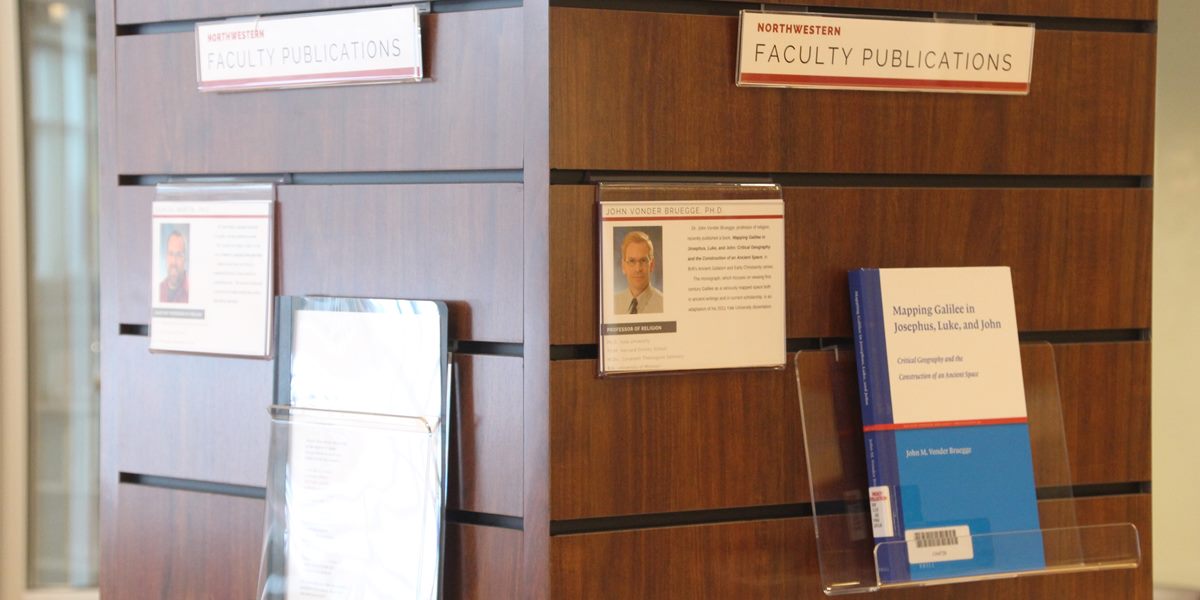 Recent scholarship display
We like to acknowledge and celebrate the ongoing scholarship conducted by our faculty. Recent publications are on display on the first floor of the building. Furthermore, we are working on creating an  institutional repository to host and preserve faculty scholarship as well as archival collections.
NOTE: Because of publisher restrictions, some items are only available to members of the Northwestern community.  
Currently on Display
Alzubaidi, Ahmed, Ameena Saad Al Sumaiti, Young-Ji Byon, and Khalifa Al Hosani. "Emergency Vehicle Aware Lane Change Decision Model for Autonomous Vehicles Using Deep Reinforcement Learning" in IEEE Access. 2023. 
Anderson, Doug. "'Kerk en School': Henry Hospers and Iowa's Second Kolonie" in Origins: Historical Magazine of the Heritage Hall Archives. 2023.
Barker, Jeff. Whispers from the Lord: A Missionary Nurse's Journal. 2023.
Jackson, Lewis, Martin Agran, Kirsten Rebecca Lansey, Dale Baker, Somer Matthews, Heather Fitzpatrick (Hayes), Matt Jameson, Diane Ryndak, Kristin Burnette, and Debbie Taub. "Examination of Contextual Variables Across and Within Different Types of Placement for Elementary Students With Complex Support Needs" in Research and Practice for Persons with Disabilities. 2022. 
Jongerius, Kim. "Mathematical Minds: A Senior Seminar for the Mathematically-Minded" in Association of Christians in the Mathematical Sciences Journal and Proceedings. 2023.
Jun, Hyunsung D., Myungshin Im, Minhee Hyun, Yongmin Yoon, Peter R. M. Eisenhardt, Jueun Hong, Yiseul Jeon, Duho Kim, Jae-Woo Kim, Ji Hoon Kim, and Changbom Park. "The Galaxy Environment of Extremely Massive Quasars. I. An Overdensity of Hα Emitters at z = 1.47" in The Astrophysics Journal. 2021.
Kang, Juyeon. Joyful Praises. 2023.    
Lief, Jason and Kurt Rietema. To Mend the World: A New Vision for Youth Ministry. 2023.  
Molotsi,  Hugh, Mjumo Mzyece, Ogundiran Soumonni, and Jeff Zias. The Intrapreneur's Journey: Empowering Employees to Drive Growth. 2023. 
Tsang, Jo-Ann, Jay M. Medenwaldt, Hilary N. Alwood, Jenae M. Nelson, and Sarah A. Schnitker. "Writing About Gratitude Toward God Produces Differential Content and Outcomes Compared to Gratitude Toward Other Benefactors Among U.S. Adults" in The International Journal for the Psychology of Religion. 2023. 
Vanderhill, Dietrik. "Posteriority" in Wasafiri. 2019.