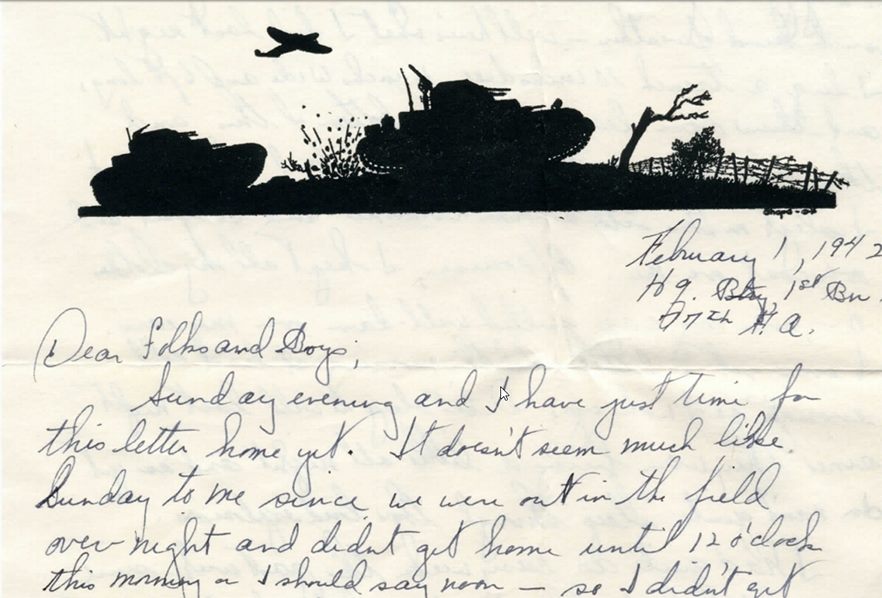 Stories of World War II:
Using archival collections to learn about soldiers and survivors
We're currently offering a program aimed at 6th - 10th grade students featuring real people who experienced World War II.  On a visit to Northwestern, your students can interact with the artifacts from the following collections and hear from the staff on how these items help us paint a more complete story of the war.  See a  sample schedule to see how other schools have experienced a visit to the Northwestern archives.  
Captain Ralph Mouw Collection
This  collection of letters from Captain Mouw details his experiences during World War II. He landed at Normandy on D-Day, served in a field artillery unit that saw heavy fighting, plus worked in the liberation forces, freeing prisoners from concentration camps and removing Nazi propaganda. Students can see the various items, plus participate in a transcription activity using Ralph's handwritten letters.
Roderich & Elisabeth Wolff Collection
A  scrapbook and accompanying documents tell the story of a German couple during World War II. Roderich Wolff (1897–1973) was Jewish and his wife Elisabeth (1912–2006) was Christian. They married on December 20, 1930, and moved to Erfurt, Germany. Roderich was arrested by the Gestapo during Kristallnacht on November 9, 1938, and sent to Buchenwald Concentration Camp. He was released with payment and an exit visa. The scrapbook details the rest of their experiences during the war. Roderich spent additional time in camps, but both he and Elisabeth survived the war and resettled in America. Classes who visit can see the scrapbook while hearing more about the Wolffs' compelling story.
Gordon Scrapbook
This  scrapbook contains letters and photographs written to Mrs. W.F. Gordon from four individuals in The Netherlands. Gordon sent food, supplies, and clothing following World War II. Students can examine this to see the devastation wrought by the war, plus discover how people helped one another.
Other Activities
Depending on the objectives and time available, other enrichment activities can be incorporated. In the past, we've used children's literature to bring another perspective, plus we've used a reflection exercise to help connect the stories to the students' understanding of the war.