The Latest
November is Native American Heritage Month. Visit our display of children's books.
---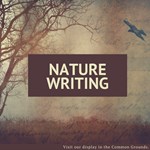 The literary genre known as nature writing came into its own in the 19th century. It was born of Romantic and Transcendentalist interest in how the human mind imagines nature, paralleling the growing importance of the sciences as a means of knowing the natural world amidst burgeoning industrialization and urbanization.
---
DeWitt Library is once again partnering with all Sioux County libraries for the One Book, One Sioux County event. This year, Sioux County libraries are discussing The Boys in the Bunkhouse by Dan Barry.
---