A new way to access journals
Thursday, September 10, 2020
The library is excited to offer the Northwestern community access to our scholarly journals through a tool called BrowZine. BrowZine allows you to browse, read, and follow scholarly journals in a modern visual display.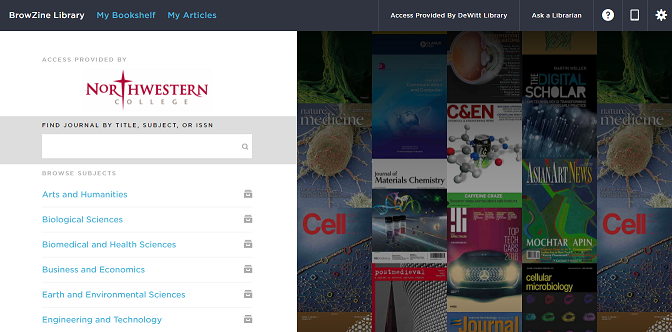 With BrowZine, you can:
See what journals you have access to through the library: Often students and faculty are not aware of the library's wide array of journals.  There's no blame there . . . our database vendors are often changing their relationships with publishers, and it's difficult to keep track.  With BrowZine's subject-based display, you can quickly see what's available in your field.  For example, here are the business journals we offer.
Browse and read journals: Browse journals by subject, easily review tables of contents, and download full articles.
Stay current with My Bookshelf: Create a personal bookshelf of titles to follow and receive new article notifications.
Access on any device: Easily access BrowZine from your iOS and Android device and on the web to stay up to date wherever you are.
Save and export articles: Use the BrowZine app to save articles for off-line reading. 
Share with classmates, colleagues, and students: BrowZine's links are formatted to work both on- and off-campus, so it's easy to share articles via email and Blackboard.
Visit browzine.com through the library's site, or download the free app from your mobile device's app store. We think you'll find this way of interacting with journals more convenient and user-friendly. 
 As always, let us know if you have questions!
712-707-7234