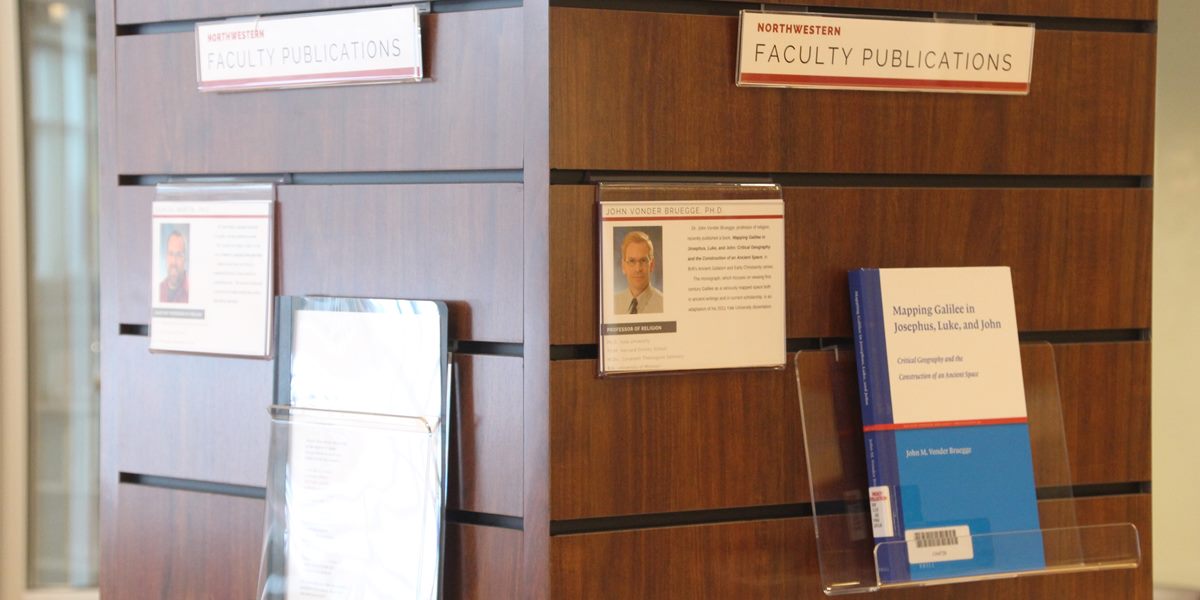 Recent scholarship display
We like to acknowledge and celebrate the ongoing scholarship conducted by our faculty. Recent publications are on display on the first floor of the building. Furthermore, we are working on creating an institutional repository to host and preserve faculty scholarship as well as archival collections.
NOTE: Because of publisher restrictions, some items are only available to members of the Northwestern community.  
Currently on Display
Bastian, Abigail M., Marcus J. Blankespoor, Gideon K. Fynaardt Sadie A. Gilmeister, Emily E. Hurley, Madison Jones, Erika J. McKenney, Alexa N. Olguin, Micah N. Rens, Garrett Snyder, Anneka E. Sterk, Sophie M. Swart, Alaena Trevino, Ashley N. Van Egdom, Morgan C. Veach, Kip Cullinan, Kaarina Van Berkum, Lauren R. Pavich, Krista Starr, Bryon Noordewier, and Sara S. Tolsma. "Complete Genome Sequences of Microbacterium Phages Clayda5 and Gshelby23 and Gordonia Phages Wrigley and Santhid" in Microbiology Resource Announcements. November 2022.
Kugler, Mike. Into the Jungle!: A Boy's Comic Strip History of World War II. 2023.
Mead, James. Commentaries on Working Preacher web site. 2022. 
Nordman, Jenny, and Justin Adcock. "Addressing Low Frustration Tolerance in Students with Learning Disabilities" in Intervention in School and Clinic. 2022.
Song, Jiying (Jenny), Joe Walsh, Kae Reynolds, Jennifer Tilghman-Havens, Shann Ray Ferch, and Larry C. Spears (editors). Servant-Leadership, Feminism, and Gender Well-Being: How Leaders Transcend Global Inequities through Hope, Unity, and Love. 
Yoon, Dong Pil, Patricia Bruininks, Erin I. Smith, Charlotte V.O. Witvliet, Daniel Cohen, Laird Edman, Joseph Bankard, Katherline Little, and Brick Johnstone. "The Relationships between Positive Character Traits, Virtues, and Health" in Social Work and Christianity. Summer 2022.