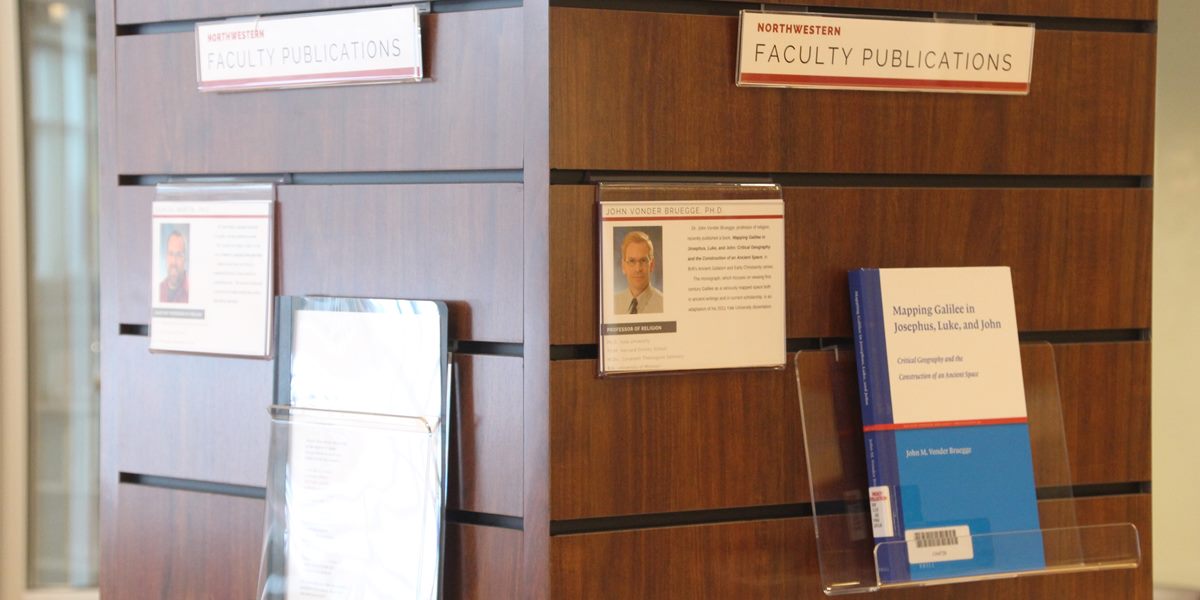 Recent scholarship display
We like to acknowledge and celebrate the ongoing scholarship conducted by our faculty. Recent publications are on display on the first floor of the building. Furthermore, we are working on creating an  institutional repository to host and preserve faculty scholarship as well as archival collections.
NOTE: Because of publisher restrictions, some items are only available to members of the Northwestern community.  
Currently on Display
Barker, Jeff, & Boogart, Thomas. Performing the Plays of the Bible: Seven Ancient Scripts and our Journey to Return Them to the Stage. Webber Institute Books, 2020.
Hoey, Rebecca. "Diversity and Distance Learning: An Exploratory Study of the Relationships between Online and Minority Enrollment at Private Nonprofit Christian Colleges" in Christian Higher Education, June 18, 2020.
Jensen, Randall M. "Okja as Philosophy: Why Animals Matter" in The Palgrave Handbook of Popular Culture as Philosophy, edited by David Kyle Johnson. Palgrave Macmillan, 2020.
Kaltwasser, Cambria. "Barth on Death" in The Wiley Blackwell Companion to Karl Barth, edited by George Hunsinger & Keith L. Johnson. Wiley Blackwell, 2020.
Song, Jiying (Jenny) , Tran, Dung Q., Ferch, Shann Ray, & Spears, Larry C. Servant-Leadership and Forgiveness: How Leaders Help Heal the Heart of the World, SUNY Press, 2020.
Scorza, Phil. Leaf #6. Local Perspectives 2020, Sioux City, IA.    
Tolsma, Sara, et al. "Genomic Diversity of Bacteriophages Infecting Microbacterium ssp" in PLOS ONE, June 18, 2020.