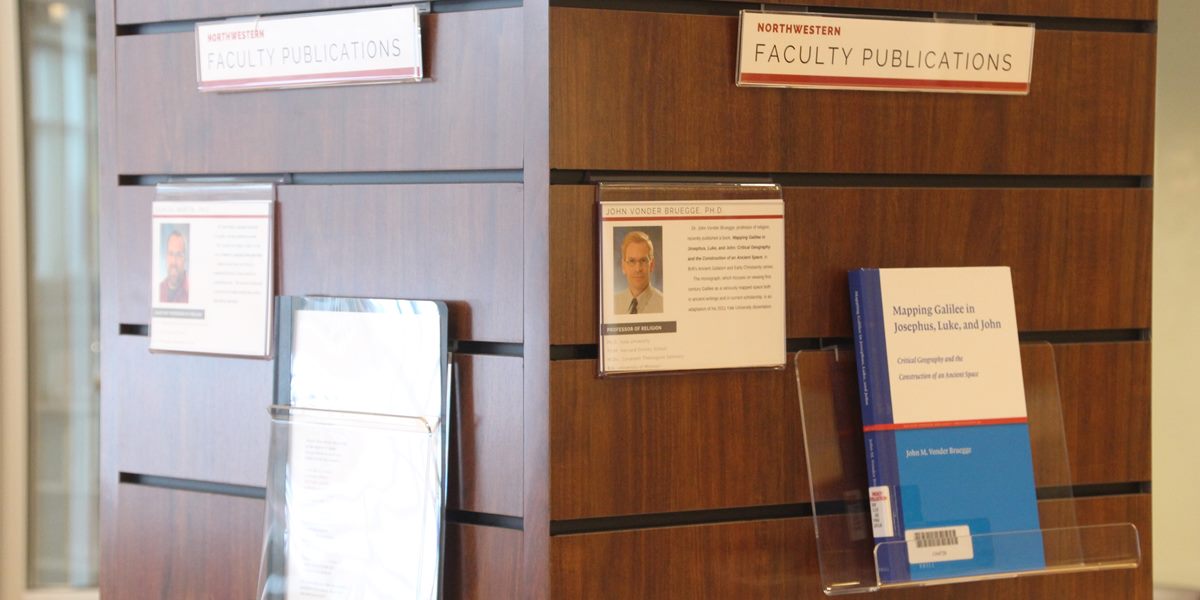 Recent scholarship display
We like to acknowledge and celebrate the ongoing scholarship conducted by our faculty. Recent publications are on display on the first floor of the building. Furthermore, we are working on creating an institutional repository to host and preserve faculty scholarship as well as archival collections.
NOTE: Because of publisher restrictions, some items are only available to members of the Northwestern community.  
Currently on Display
Abd, Ashar Turky, Rajat Emanuel Singh, Kamran Iqbal, and Gannon White. "A Perspective on Muscle Synergies and Different Theories Related to Their Adaptation" in Biomechanics. September 2021. 
Ansari, Sarah, Jing Zhang, and Rajat Emanuel Singh. "A Review of Stabilization Methods for DCMG with CPL, the Role of Bandwidth Limits and Droop Control" in Protection and Control of Modern Power Systems. January 2022. 
Edman, Laird and Myron Penner. "Lived Faith and Cognitive Intuitions: Some Theological Implications of Cognitive Science of Religion" in The Oxford Handbook of the Cognitive Science of Religion. 2022.
Hayes, Kenneth and Angila Moffitt. "Meeting Students' Social-Emotional Supports Through Extracurricular Activities" in Journal for Social and Emotional Learning. May 2022.  
Kaltwasser, Cambria. "At the 'Zero-Point' of Faith: The Class of Old Man and New in the Römerbrief and Barth's Later Doctrine of Sanctification" in Karl Barth's Epistle to the Romans. 2022.
Monsma, Scott. "Strangers behind Bars: Examining the System of Mass Incarceration" in Strangers and Scapegoats: Extending God's Welcome to Those on the Margins. 2022. 
Scorza, Phil. Untitled (Portrait 2) at Sioux City Art Center Local Perspectives Exhibition. 2022.