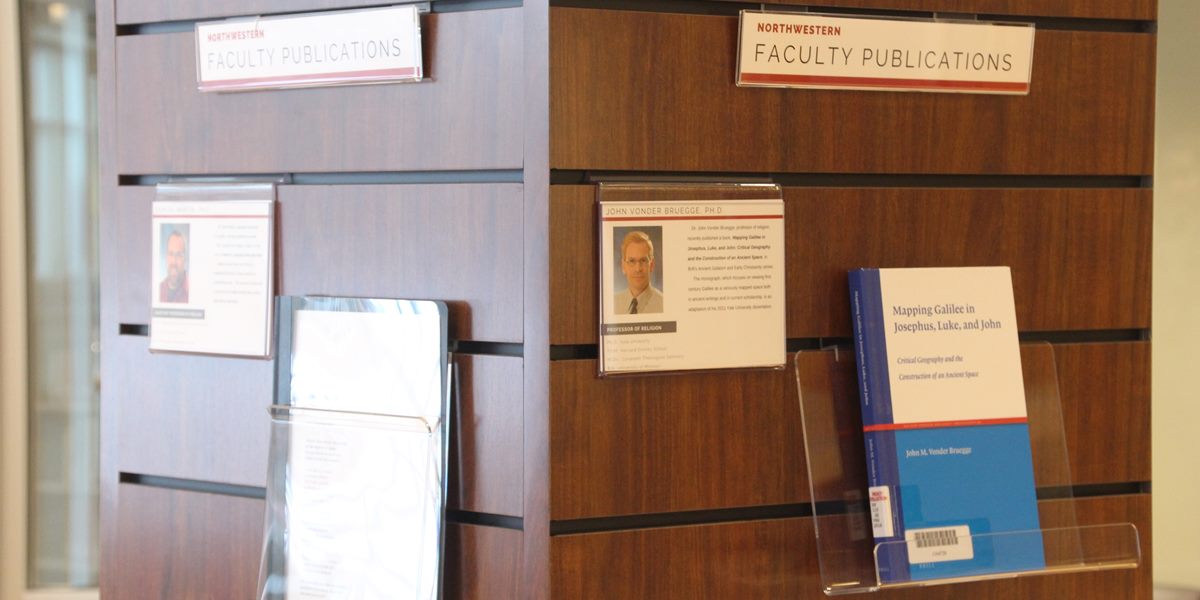 Recent scholarship display
We like to acknowledge and celebrate the ongoing scholarship conducted by our faculty. Recent publications are on display on the first floor of the building. Furthermore, we are working on creating an institutional repository to host and preserve faculty scholarship as well as archival collections.
NOTE: Because of publisher restrictions, some items are only available to members of the Northwestern community.  
Anderson, Douglas Firth. "Engaging Landscapes: San Francisco Bay Area Protestants in the Progressive Era" in  California Dreaming: Society and Culture in the Golden State. Pickwick Publications, 2017.
Barker, Jeff.  Sioux Center Sudan: A Missionary Nurse's Journey. Hendrickson Publishers, 2018.  
Edman, Laird. "Promiscuous Teleology: From Childhood through Adulthood and from West to East" in  Religious Cognition in China. Springer, 2017.  
Grace, Emily. "Incorporating Theology and Philosophy of Science into the Physics Classroom." International Journal of Christianity and Education, vol. 22, no. 2, 2018.
Heie, Harold. Respectful LGBT Conversations: Seeking Truth, Giving Love, and Modeling Christian Unity. Cascade Books, 2018. 
Hoey, Rebecca. "Examining the Characteristics and Content of Instructor Discussion Interaction upon Student Outcomes in an Online Course."  Online Learning Journal, vol. 21, no. 4, December 2017.
Martin, Samuel. "Syringe-Fed Ferrets." Screencraft website, 2017.

View the story, the 2017 ScreenCraft Cinematic Short Story Contest winner.

Monsma, Scott. "Interfaith Dialog: Motivation and Practice" in  Journal of Sociology and Christianity. Springer, 2017.