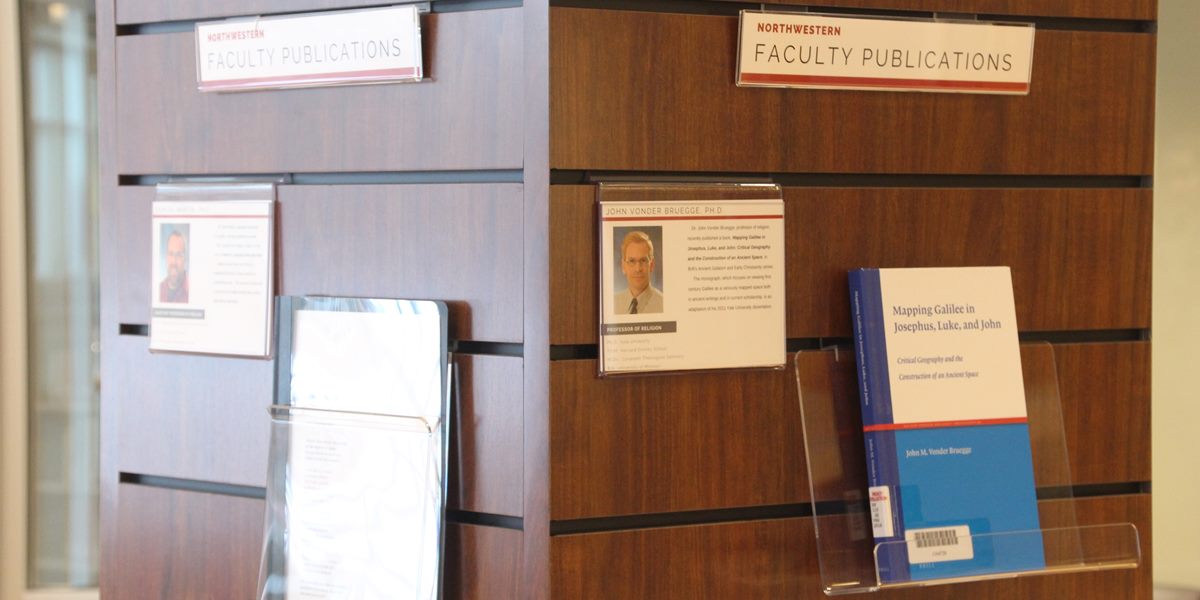 Recent scholarship display
We like to acknowledge and celebrate the ongoing scholarship conducted by our faculty. Recent publications are on display on the first floor of the building. Furthermore, we are working on creating an institutional repository to host and preserve faculty scholarship as well as archival collections.
NOTE: Because of publisher restrictions, some items are only available to members of the Northwestern community.  
Currently on Display
Holm, Thomas. Tsau Me Lang Ge Gang [The Grasshopper Teases the Rooster]. Earthsongs, 2018.
Hong, Hun.  "Volume of the Set of Locally Diagonalizable Bipartite States" in Journal of Physics A: Mathematical and Theoretical, vol. 51, no. 38, September 2018.  
Martin, Samuel. "What the Polisher Sees: The Art of James Tughan" in Image: Art, Faith, Mystery, no. 98, Fall 2018.  
Vonder Bruegge, John. "Josephus' Galilee and Spatial Theory" in BibleInterp.com.  
Winn, Robert. Christianity in the Roman Empire: Key Figures, Beliefs, and Practices of the Early Church (A.D. 100-300). Hendrickson Publishers, 2018. 
An article about Northwestern art professor Yun Shin from The Iowan (vol. 67, no. 1, September - October 2018) is also on display.